Pura Vida Resort, Tagaytay City
If you are looking for great place to stay in Tagaytay but don't want to spend that much, worry not!
Pura Vida Resort
will be your next destination when you go to Tagaytay! ;)
Tagaytay City has progressed into a popular tourist destination near Manila and is known for the picturesque view of Taal Lake. It is liked by a lot of people who wants a quick escape from the city. Well, I am proud to say that this is my hometown. :)
Last Wednesday, my girlfriends and I decided to have a sleepover because we haven't seen each other for a while. We checked in at Pura Vida Resort. It was not our first time here though. Karissa celebrated her 18th birthday here. I can't believe it was 5 years ago already! It was an overnight party but I was not able to spend the night there just because I have school the next day. After 5 years, many things have changed. They renovated the place and added new rooms. It was better than ever!
Pura Vida Resort is just two hours away from Manila. The location is just perfect because it is near Sky Ranch Tagaytay and other establishments. There are also restaurants just across and beside the resort. You should try Bulalo when you go to Tagaytay. It is one of our specialty here. The best!
We stayed in Room 202. It is one of their new room and it faces the overlooking view of Batangas. The room is really nice and cozy! It has a king-sized bed with tv, a bathtub, living area, and balcony. It has a maximum capacity of two people.
The place was free from any disturbance. I could stay here forever! Haha. The room was cozy and it was spacious enough for the three of us. I bought my laptop with me so I can still work while having our staycation. #Priorities :p Andrea and I arrived first. The check-in time is at 2pm.
The view was breathtaking and captivating. I've been living in Tagaytay for almost 24 years but I will never get tired of the view. It was indeed one of God's masterpiece.
You get the best view, of course, from the rooftop.
The view from our room.
Room 301
Room 303
Room 304
Room 201
Sevilla & Cordoba Rooms (Not overlooking)
Room Rates
Denia (not a/c) - PHP 1,750.00
Althea, Baza, El Burgo, Madrid, Valencia - PHP 2,500
Sevilla, Algaida, Benissa, Cuenca, Zaragosa - PHP 3,000
Cordoba, Barcelona - PHP 3,500
303, 304 - PHP 3,000
301, 302 - PHP 3,500
201 - PHP 4,000
202 - PHP 5,500
All rooms have two-person capacity except Algaida, Benissa, Cordoba and 201. Those four rooms have a four-person capacity. An extra adult will be charged PHP 400.00 and 200.00 for each kid.
Aside from rooms, they also have villas that can accommodate a maximum of 10 persons and 2 kids. They have 3 villas and the photo above is just one of them. The villas are also newly renovated. It has 3 airconditioned rooms, own kitchen, dining, and living area.
Villa Rates
Villa Mar
Sunday - Thursday - 12,000.00
Friday - Saturday - 14,000.00
Villa Monte
Sunday - Thursday - 10,000
Friday - Saturday - 12,000
Villa Cielo
Sunday - Thursday - 10,000
Friday - Saturday - 12,000
An extra adult will be charged PHP 600.00 and 300.00 for each kid.
The pool looks inviting but we didn't get to swim. The weather was really cold and I don't want to get sick. Maybe next time! ;)
Each room includes a breakfast for two. You can choose between tapa, bangus, longanisa, tocino, and corned beef. The breakfast also includes coffee. I haven't had tocino in a while so I ordered it. Karissa also chose tocino. Andrea went home early because she had some errands. Check-out time is at 12nn.
Just because skin care is life! Haha.
Would I recommend this resort?
Of course!
This is very accessible even if you are just commuting. The price is reasonable and I think it is worth it. It is even cheaper compared to the other hotels here in Tagaytay and you even have the view. They also have wifi, of course. The security is 24/7. The staffs are very accommodating and friendly. So what more could you ask for, right?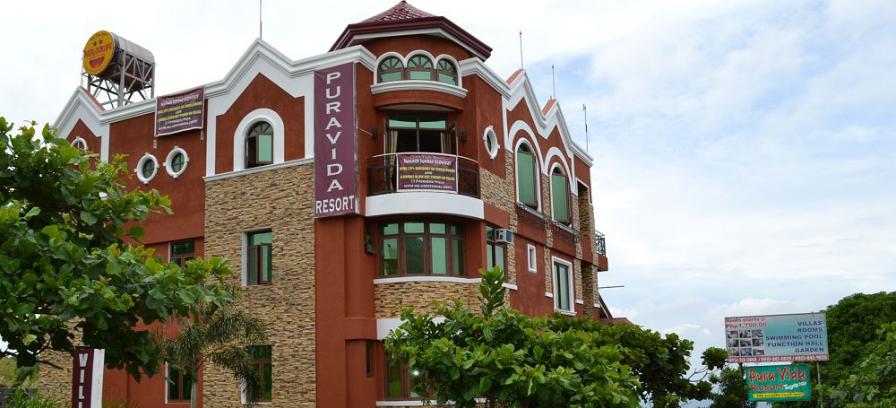 5795 Sampaguita St., Lakeview Subdivision
Mendez Crossing East, Tagaytay City
For reservations: (046) 413-3848 | (02) 245-6572
Mobile No: 0918-842-9829 | 0922-842-9829
Email: puravidaresort@ymail.com
www.puravidaresort.net