Althea Bare Essentials Review
Althea
first launched the Althea Velvet Powder last year and now they are launching their own skincare line,
The Bare Essentials
. All the products from this line are
hypoallergenic
and
cruelty-free
. You know that I love Althea and anything K-beauty so I was really excited when I received the products. First, I would like to congratulate Althea Korea for another successful launch!
The Bare Essentials
aims to minimize and simplify your skin care routine with just
3 simple steps
. I admit, I always use many products for my face ever since I've gotten into kbeauty and skin care. I would use a cleanser, toner, aloe vera gel, creams, face masks, something to exfoliate and many more. There are times, especially at nights, when I get lazy to do my skincare routine. I am not the only one, right?
The box includes:
1 Contour Cleanser
1 Primer Water
1 Fixer Cream
5 Sample Sachets
1 Mirror
1 Marble Accessory
1 Pamphlet
P.S. The Fixer Cream and Primer Water has their own box. The Contour Cleanser has no box but it was wrapped and sealed with plastic. The mirror, on the other hand, was in a box as well and everything was on a bubble wrap when I first opened the box. I already used the products when I took this photo. Haha! The 5 sample sachets are not included in the photo above. I forgot to include them. Sorry! P.S. I love the mirror!
Step 1
Micro Bubbleshots
Product Description
Microcapsules pop with water to gently but effectively exfoliate and remove impurities from the skin. Detoxify your skin and create a defined, slim face shape.
Key Ingredients
Ice plant, Lemon verbena leaf
Price
300 pesos (150g)
Product Description
Keep your steps to a minimum with a 2-in-1 toner and primer. Made with patented dewdrop technology, it smoothens and even out the skin, prepping it for the next step and leaving the skin with a youthful glow.
Key ingredients
Snow lotus, Patented dewdrop technology
Price
500 pesos (200ml)
Step 3
Fixer Cream
24Hr Hydration
Product Description
Feel layers upon layers of moisture as it penetrates into the skin for up to 24hrs, giving your skin the hydration it truly needs. Keep your skin feeling fresh and looking vitalized each day.
Key Ingredients
Trehalose, Green tea, Baobab tree
Price
640 pesos (50g)
Review
I've been using this for a week now. I stopped using my current products to try this 3-step skincare routine. First of all, can we talk about the packaging? I mean, it is aesthetically beautiful! Althea never fails us with their packaging. It is always on point. One thing about the packaging though, the labels on the products are only written in Korean. I had to search on Google to know further about the products. It would be better if it also has English labels. So let's proceed with the products.
The
Contour Cleanser
is thick and foamy. This is my first time to use a cleanser with microcapsules on it and it feels good on the skin. My skin feels really smooth after I use this. I am not sure with the 'contour' power of this cleanser though.
The
Primer Water
has a runny consistency but it more viscous than water. Just like the Klairs toner, you just pat the toner directly onto your skin. The skin will absorb more product that way. It has a minimal scent. It looks opaque because of the bottle but when you pour it out, it is translucent/clear. This product brightens up my face and I look fresher than ever.
Among the three products, the
Fixer Cream
is my favorite. First, it is because of the packaging. It comes in a plastic glass tub yet it looks very sleek and classy. I like that this cream does not feel super heavy on the face and it is not thick unlike the common creams on the market but it does moisturize my face and makes my skin really soft. It has a minimal scent and is not sticky on the face.
I have acne-prone/sensitive skin. I already had two pimples when I first used the products. After three days of using it, my face experienced another few bumps. I feel like the product did not soothe the pimples that I already have so I tried to put another product. I also noticed that my nose area tends to oil up more after I wake up the next morning. I am not sure if it is the toner or the cream that triggers it.
With that, I think I would recommend this for my girls who have normal to dry skin. The 3-step skincare routine won't work for us girls who have sensitive skin. I feel like we really had to put another product to really prevent our face from getting pimples and to get rid of acne scars. I know, the struggle is real to have sensitive skin. Nevertheless, I can still use them but I will add another product to this routine.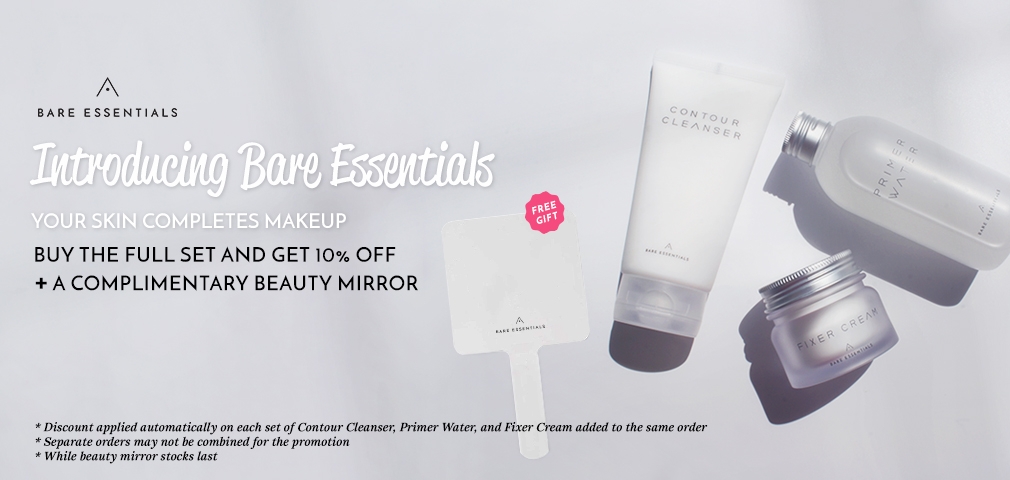 Brand: Althea
Prices: Contour Cleanser - 300 pesos
Primer Water - 550 pesos
Fixer Cream - 640 pesos
Made in Korea
--------------------
Pin it and share it!
Disclaimer:
The products were sent to me by Althea for review. All thoughts and opinions expressed herein are my own and not influenced by the company or its affiliates, in any way. All of the photos are mine.