Baler Travel Guide + Places To Visit
Baler
is on my bucket list because I heard a lot of good stories about it and I am so happy that I can finally cross this one out. Karissa, one of my best friends, recently opened her own travel agency and she asked me to accompany her on this trip as her assistant/photographer. We went there in the first week of August.
It was a very tiring trip since we had to travel for more than 8 hours just to get there but it is all worth it. I only know Baler for its beach and surfing but little did I know that it is rich in historical aspect and they have so much to offer. I learned so many things and this trip made me realize that I actually love to travel. I like to explore different places and their cultures.
Before anything else, here's a little fun fact (just in case you don't know yet): Baler is part of the Quezon Province back in the days. It only became part of Aurora in 1951 and Aurora became an independent province in 1979. Aurora was named after the wife of the late President Manuel L. Quezon.
P.S. This will be a long post.
DAY 1
We left Tagaytay at around 4:30 in the morning and we had our first stop over at around 6:00am in Shell NLEX, somewhere in Bulacan. It was a rainy day. Unfortunately, we had a problem with our bus and we got stranded for four hours waiting for another bus. We continued our journey at around 2:00 in the afternoon. We had another stopover at a restaurant along the way for our late lunch.
BIKE KINGS KITCHEN
We arrived in Baler at around 7:00pm and it was time for dinner! It was really a tiring day already. We had our dinner at Bike Kings Kitchen. I really love their food! I ordered beef tapa and it was really good! Their foods are all affordable. A viand costs for 85.00 to 100.00 pesos.
SEA COAST INN
We stayed at Sea Coast Inn all throughout this trip (3D 2N). I only have the picture of the lobby. I don't have a picture of the hotel because we arrived there late at night and the bus was covering the front part so I just got a photo from google. I also don't have a photo the room because we were dead tired already. Haha! But I managed to find a phto on google. Credits to the owner of both photos!
Photo from google.com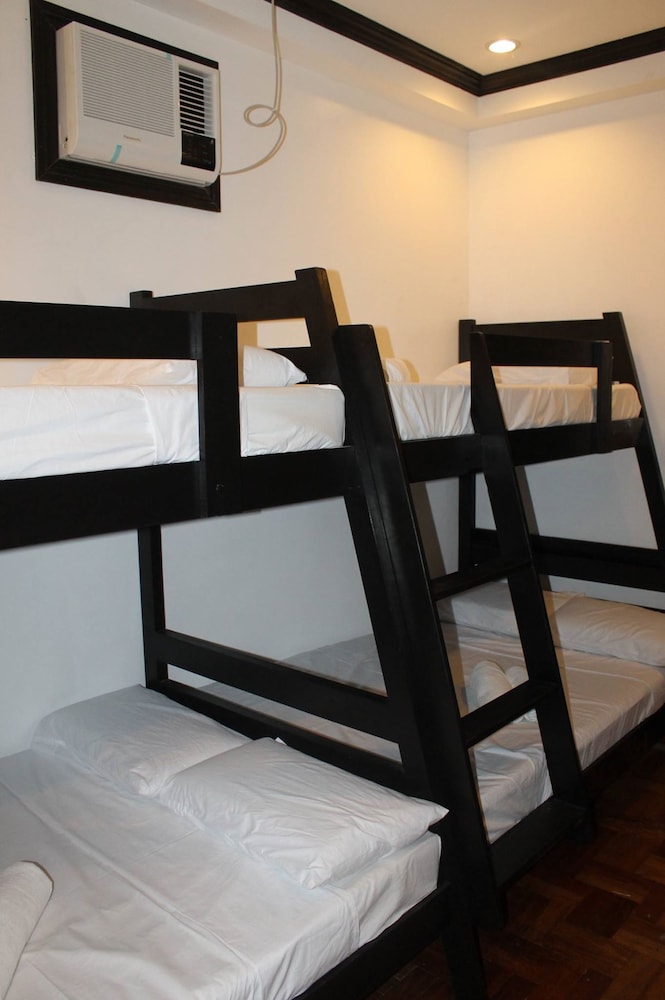 Photo from google.com
DAY 2
DIGUISIT BEACH
We started our day early but the weather was a bit gloomy. We left the hotel at around 8:00am. We first visited
Diguisit Beach
which is known for its
rock formations
. It's nice to take photos here. It has a picturesque view.
DIGUISIT FALLS
For our second stop for day two, we went to Diguisit Falls. There are actually many small falls around Diguisit Beach and we are amazed by that. Diguisit Falls is just near the road so you can have an easy access to it. The trail going up was muddy and slippery because of the weather.
I know, I kinda looked haggard already. Haha! I am still not used with my new camera so please bare with me if some of my subjects are out of focus, just like this one. :p
ERMITA HILL
Ermita Hill
is a very meaningful place to all the people of Baler. This is where the
7 Families
climbed up to survive the
Tromba Marina
, a tsunami that hit Baler back in 1735. Those 7 families are the only ones who survived that tsunami.
BALER HANGING BRIDGE
We had to transfer to a van to go to this place. To be honest, I didn't get to cross this one! I just can't! Hahaha! I was really scared because you'd really feel the bouncing and I don't really like that. I only took photos of the participants. Haha!
I got a picture with the hanging bridge though! Haha! :p I am not an avid fan of Probinsyano but my aunt told me that they filmed an episode here. It was Cardo's dream where he was killed, I think.
At the side of the hanging bridge, there are many pasalubong stalls. I bought keychains and magnets here. They also sell high quality tshirts here.
BALER CITY PROPER
A photo with the famous Baler signage, of course :)
BALER CHURCH
Baler Church is just beside the Baler signage. I didn't get a photo of inside because I had to do some duties. I took this photo from the Dona Aurora House.
DONA AURORA HOUSE
The
Doña Aurora House
is just across the Baler Church. This is said to be the replica of the house already. As I've said earlier, Doña Aurora Aragón-Quezón was the wife of the late President Manuel L Quezon. They are actually first cousins but they got married and had four children. Both of them were born in the City of Baler that is why the people of Baler really treasure and respect them.
MANUEL L. QUEZON MONUMENT
MUSEO DE BALER
LUNCH AT PLAYA AZUL
Photo from google.com
We had our lunch at Playa Azul. It's a nice hotel because it's on the beach front. The sea looks really inviting but it is not on our itinerary.
DITUMBAO MOTHER FALLS
And for the highlight of this trip, of course, we had to go to Ditumbao Mother Falls. We transferred to the tricycle to get there. I didn't bring my camera because it was already drizzling and I don't have any plastic or waterproof bag with me.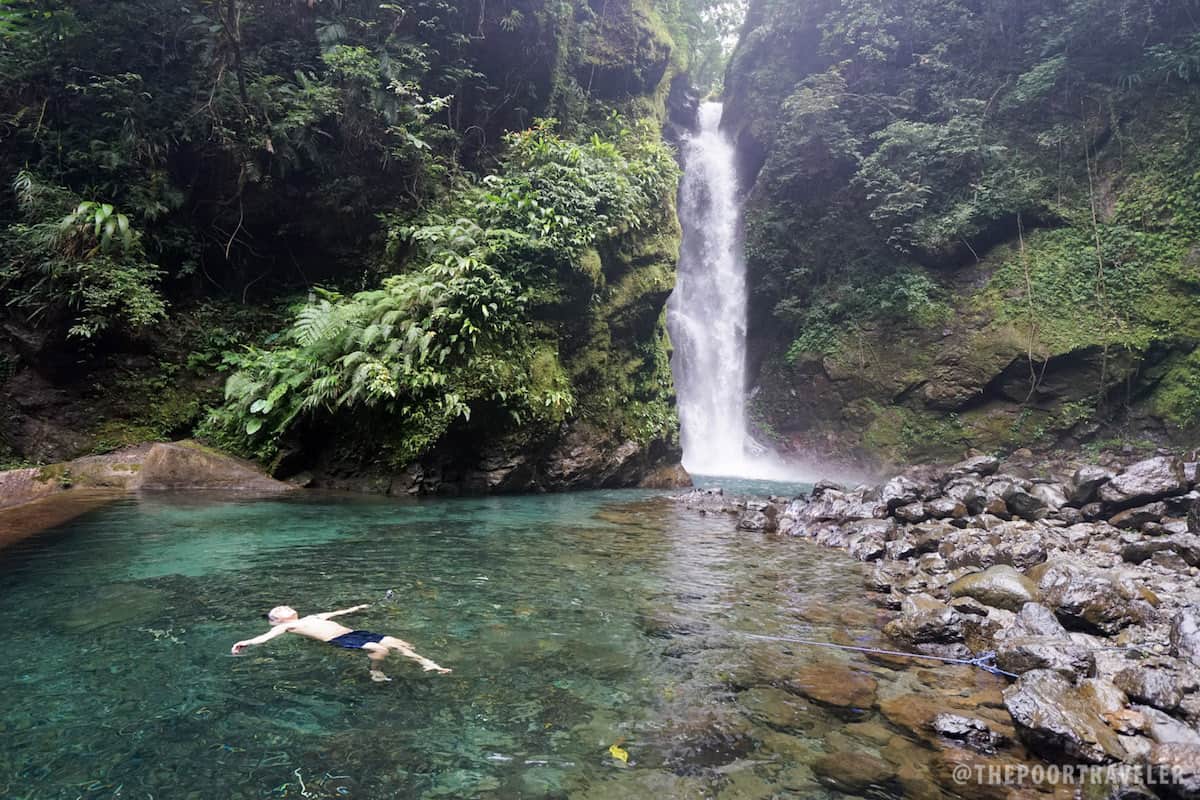 Photo from @ThePoorTraveler
We trekked for about 45 minutes to get there and another 45 minutes going back to the site. I am not a sporty type but I went for it and stepped out of my comfort zone. It rained a few times when we trekked. I feel like it was way better that way. It feels so surreal. Walking in the rain and when you look up, you see the droplets coming through. And feeling so emotional about life! Haha! One of the best memories! The water is so clean and of course, gotta love mother nature! Less photo but full of memories ;)
Thank you for the invite, Karissa! This was really a memorable experience with you.
DAY 3
OLD BALETE TREE
For our last day, we checked out early from the hotel because it will be a long day again. We first went to Balete Tree, a famous tourist spot here in Baler. It was already featured multiple times on the local television. It said to be 600 years old. 60 people (students), hand in hand, were needed to surround the tree. It really huge! God is really amazing! On the side of the tree, there are pasalubong stalls and their specialty is suman.
VINCENT GONZALES ART MUSEUM
We went to an art museum owned by
Mr. Vincent Gonzales
. He also sells postcards and mugs. This place is also known for their
Paint On Your Shirt Cafe
. I like his artworks because I find it vivid and brilliant.
With Mr. Vincent Gonzales
MUMUNSI CAFE
Mumunsi Cafe
is known for their local and homemade chocolates. It is just a small cafe and the products are a bit pricey though.
Before we went home, we also went to two pasalubong centers and we had lunch at a buffet restaurant. I forgot the name! Sorry! I bought chocolates from Mumunsi Cafe and we ate it while we're on our way home. Haha! We left Baler at around 2:00 o'clock in the afternoon. The weather got a bit worse that day though. We had to reroute in Manila so we won't pass by the flooded areas. We arrived in Tagaytay at around 11:30 in the evening.
Baler is such a beautiful place to go to and I would recommend you to go there if you haven't. It is a peaceful city to live in and it has so much to offer. I would definitely love to go back there. 3 days and 2 nights aren't enough, to be honest, especially if you're from a farther place like Tagaytay. It is very tiring to travel by land for hours but Baler is so worth it. I promise!
If you're planning to travel soon (local and abroad), you may check out
4KV Travel and Tours
and also please like their page to get updates!
Where to next?